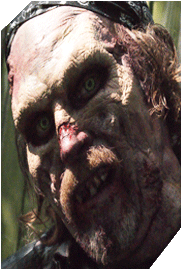 From character, old age, and gore; to creatures, animatronics, and more, we have done it all. Facades FX is a full service SFX make-up lab and creature design studio.
Facades FX provides the best designs and SFX for the budget.
A quarter century of excellence in SFX artistry-

2013 is the silver anniversary of Facades FX. We've put together a production reel representing highlights from the past quarter century: "Maybe you've seen our work."

For a DVD copy of our full production reel and resume` contact us direct. Serious inquiries only.